I build usable, accessible, unique and functional websites.
My service is personal to you, high quality and excellent value for money.
A little about me
WHETHER you need a fresh design to breathe new life into your business, sparkling copy to make your site shine or a springboard to catapult your company into the world of the web, I can help.
I have seven years experience of designing websites and worked on the Blackpool Gazette's award-winning web team before starting my own business in 2010.
In the past year I have designed sites for Fylde MP Mark Menzies, Flair Events - a company which recruits staff for major festivals as well as several smaller sites.
During my time at The Gazette, the website won numerous awards and achieved record visitor numbers.
I have a degree in internet computing, as well as years of practical experience building a variety of sites.
I'm confident I can produce a site which will put your business on the map, is easy to use and tailored so it fits your target audience perfectly.
Featured project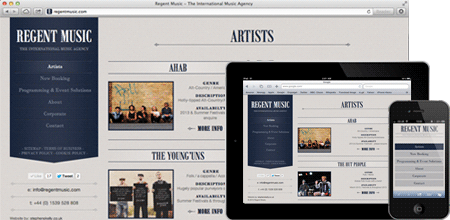 www.regentmusic.com - Booking agency website for Regent Music.
Features: Full custom CMS built in wordpress, built with HTML 5 & styled with CSS3, promoted using advanced SEO techniques.
Message me
Have an enquiry? Just want to say hello? Send me an email and ill get back to you as soon as possible.